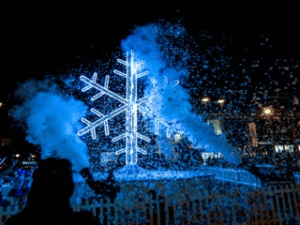 Britain's biggest snowflake has been installed in Liverpool as part of a competition for explorers in the city centre.
The Snowflake Trail, which is part of the campaign 'One Magical City' and is organised by Liverpool BID Company, will guide visitors through town as they seek to uncover the twelve snowflakes scattered all around. Each individual flake has been professionally designed by artists from across the UK.
The largest snowflake, which stands at eight feet tall, is in Williamson Square and is accompanied by a giant book telling the tale of a young boy, Alfie, who has his favourite hat stolen by Jack Frost's sprites.
He is then taken on a journey across the city as he and Jack Frost go in search to retrieve his wooly hat.
Lisa Bower, author of the Snowflake Trail book, told JMU Journalism: "I wanted to write something of this nature for some time. The Snowflake Trail gives the city a real-life magical landscape for children to engage with the story in a multitude of ways."
The competition consists of 12 questions, each one in relation to each snowflake as participants are given clues to search around the city centre. Once the trail has been completed, you can submit your answers by sending them to FreePost Snowflake Trail.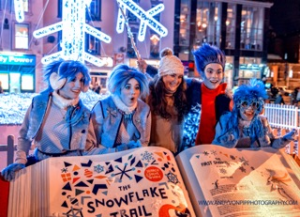 Bower added: "This is a chance to remind the young people that there is magic everywhere once you look for it. There are amazing things happening all around Liverpool that can bring families and friends together and show that despite being a city, heart and humour are at the soul of everything."
There a number of prizes up for grabs, including a Money Can't Buy Weekend in Liverpool, a chance for one home to have a new £1,500 revamp at Christmas and prizes from Liverpool Football Cub and Everton Football Club.
Trail maps can be picked up at Primark, BHS and M&S stores on Church Street and Lord Street, as well as Liverpool One and St John's. All entries must be received by January 6th.