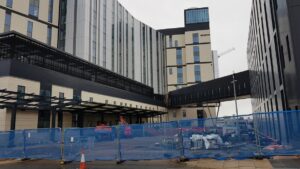 Confusion still surrounds the future of Liverpool's new Royal University Hospital, with no date yet in sight for it to open, and the firm responsible for building it having gone bust.
With the recent liquidation of construction giants Carillion, work on the £335 million project has all but halted, and the new 646-bed facility is said to be only around 90% complete.
Delays have already hampered the scheme, with the hospital already long past the original estimate of opening in March last year.
This was largely due to extensive asbestos in the ground that required removal, and issues with cracks in beams that required substantial remedial works.
Carillion had revised the delivery date to February 28th, 2018, later telling the local NHS Trust that could not be met, before the company's finances collapsed earlier this month.
After going into insolvency due to hefty debts of well over £1.5 billion, the construction company made 30,000 workers redundant and also left sub-contractors out of pocket, with a large amount of unfinished projects around the country.
YouTube: Jade Culver
As one of the UK Government's main contractors, Carillion has been responsible for a variety of developments as varied as Anfield's Main stand expansion, HS2 rail plans, the Tate Modern, and other hospitals in England.
So, what does the future hold for the largest hospital in Merseyside? That is still unclear.
Officials are now working with PWC, which took charge of Carillion's liquidation, to decide what happens next.
Aidan Kehoe, Chief Executive of the Royal Liverpool and Broadgreen University Hospitals NHS Trust, said: "A small number of workers have returned to the new Royal, and given the circumstances very little construction work is taking place at present.
"The Hospital Company (Liverpool) has confirmed to sub-contractors that they will be paid for their work from 15 January until the end of their contract. Any money owed from Carillion for work prior to this is subject to insolvency proceedings and discussions are underway between sub-contractors and PWC."
The company is said to have a range of contingency plans to ensure that work can continue, including the ability to terminate existing contracts, hire a new builder, and gain access to insurance funds.
The Hospital Company (Liverpool) is due to report to the NHS Board later this week to discuss the future of the development.
JMU Journalism attempted to contact representatives of Carillion but did not receive a response.