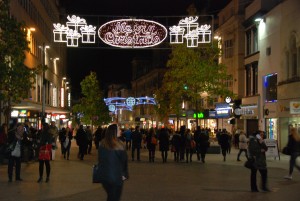 Shoppers in Liverpool have a new excuse to spend money in the build-up to Christmas, with The Ultimate Christmas Fair coming to the city for the first time.
The Fair, which will take place in the Exhibition Centre Liverpool, hopes to appeal to a female demographic, with independent retailers featuring over high-street brands.
Sharon Burrell, event director at LXFX Creative Productions, which is bringing the Ultimate Christmas Fair to Liverpool, told JMU Journalism: "We selected Liverpool for our inaugural event because it's one of the fastest growing economies in the UK and has the perfect visitor demographic within a 30-mile radius.
"We wanted to bring a new concept to the North West and create a luxury indoor Christmas fair, with unique, independent retailers."
Despite the emphasis on lesser-known brands, Burrell said that the Fair has turned down dozens of companies that were not of the right calibre.
She said: "We want to maintain quality. Our exhibitors have been hand-picked to suit an ABC1 female visitor profile, so we're confident that visitors will appreciate the quality of items available, regardless of whether it carries a designer label."
Burrell also admitted that the Fair faces several challenges if it is to be a success, adding: "[A challenge is] getting the concept and scale of the event across to people in the area.
"The venue is also new, so many people aren't familiar with it just yet, and it's a fresh type of event for the city. We've worked hard to reiterate that it's so much more than a shopping event — visitors can take part in a series of workshops and demonstrations that would usually be fairly expensive on their own."
With the event running for four days, from November 26th to 29th, Burrell outlined what she hopes it can achieve: "[We want] success for everyone. Happy exhibitors who've had a good show and want to re-book and happy visitors who feel they've had a great experience, have come away with special gifts for their loved ones and want to come again the following year."
Video report by Beth Bronin, JMU Journalism TV