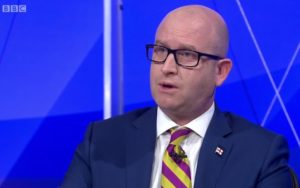 Liverpool-born politician Paul Nuttall has been elected as the new leader of the United Kingdom Independence Party and he made an immediate call for unity as he took over.
He replaces Nigel Farage after winning the UKIP leadership contest in a three-person battle, beating Suzanne Evans and John Rees-Evans to the job after earning more than 60% of the 9,622 members' votes cast.
The 39-year-old, who represents the North West region in the European Parliament, was announced as UKIP's front man at a conference in London today.
Mr Nuttall, who hails from Bootle, stood for the post following the resignation of Diane James after just 18 days in the UKIP hot seat. He admitted that "our PR has been pretty bad" over the last few months, but stated he is now looking more to the future and not the past.
Following the announcement, he said: "There will be one theme: unity, because only unity breeds success. People do not vote, join or donate to divided parties.
"Those within the party who want to come together and unite, I say we have a great and successful future. To those that do not want to unify, and want to continue fighting the battles of the past, I'm afraid your time in UKIP is coming to an end."
His first act as leader was to appoint Peter Whittle as his deputy, with Paul Oakden being named party chairman and Patrick O'Flynn will operate as Nuttall's political advisor.
YouTube: Sky News
During Farage's time as leader, he became one of the key figures in the Brexit campaign and recently stated that UKIP's position was to campaign in the north to take on the Labour Party and become the effective opposition to the Conservative government.
At the last General Election just under four million people voted for UKIP across the UK, but only one person was elected as an MP.
Nuttall said: "We will hold the government's feet to the fire electorally and ensure that Brexit really does mean Brexit.
"Under my leadership, we will ensure that this country gets the Brexit that it voted for on June 23rd and then we will put the great back into Britain.
"I want to replace the Labour Party and make UKIP the patriotic vote of working people."