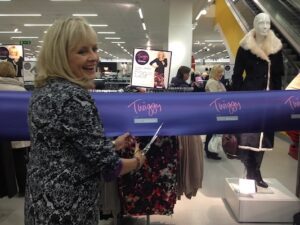 Hundreds of fashion fans flocked to Liverpool to see famous model Twiggy launch her new fashion collection.Women and men alike queued up inside Marks and Spencer to meet one of the 60s icon, as she signed autographs and posed for photographs.
The range, 'Twiggy for M&S', is only available in two UK Marks and Spencer stores.
Twiggy said: "I have absolutely loved being in Liverpool to unveil my new collection. I really love the city; Liverpool women are so fashionable and take such care in their appearance so I think it is the perfect place for my designs to be sold in-store."
Jane Adams, from Liverpool, told JMU Journalism: "It was a lovely surprise to find out she was coming to Liverpool. I loved her back when she was a model and I still love her today. She looks as good today as she did back then."
Many of the older fans knew her from her height of fame in the 60s, however many younger people turned out to see one of the judges of America's Next Top Model.
Rebecca Dean, from Huyton, told JMU Journalism: "I can't believe I met her and got a photo with her. I loved her on America's Next Top Model, she's so stylish."