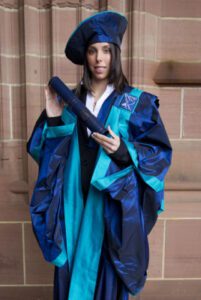 Olympic medalist Beth Tweddle returned to Liverpool John Moores University this week to receive an honorary fellowship.
Queen's guitarist and Chancellor of LJMU, Brian May, awarded Tweddle the honour in a graduation ceremony at Liverpool's Anglican Cathedral.
Tim Cable, Director of the School of Sport and Exercise Sciences, said that the 27-year-old gymnast is an ambassador for sport and higher education in the UK.
The Sports Science graduate won bronze at London 2012 – her first Olympic medal – and is a celebrated athlete internationally, having won three world championship, six European and seven British titles in the past 14 years. Starting gymnastics at age seven, she was ranked as second in the country after only 18 months.
She said: "The staff were a massive help throughout my time at university, whether it was supporting me with my training or enabling me to complete both my academic and sporting commitments."
Beth has already been awarded an MBE in the 2010 New Years Honours list for her contribution to professional gymnastics as well as her commitment to the LJMU sports scholarship programme, which was launched eight years ago.
LJMU Vice-Chancellor Nigel Weatherill said: "Beth is one of our most exceptional graduates and we are delighted to recognise her achievements through the conferment of an Honorary Fellowship."