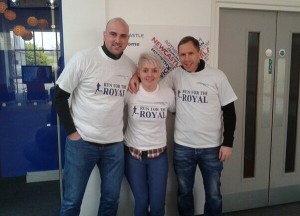 Three friends are attempting to run 2,013 miles this year to raise funds for cancer patients in Merseyside.
The three runners, Jimmy Hawkers and Andy McCabe, both 35, and Bev Ellis, 29, are all from Newcastle, but have connections to the Royal Liverpool Hospital where some of their family members have received treatment.
To date the runners – who make up the "Kielder 3", named after an area in Northumberland – have completed 95 miles but aim to reach their target over the next 10 months by running at weekends and in four major events.
Andy told JMU Journalism: "We have no doubts we will complete the challenge, even if we limp, walk or crawl the last few hundred miles.
"We are only amateur runners and wanted an idea that would be both challenging and would capture people's imagination.
"Each and every mile will be run as a threesome; if we aren't together, the miles don't count."
As part of the challenge the threesome are running two and a half marathons as well as staging a 24-hour relay where they will take it in turns to run consecutively for one full day.
The aim is to raise at least £2013 for both the Royal Liverpool "R" charity as well as Macmillan Cancer Support but the team are hoping for much more.
The last miles of the challenge will be run together at the Chester marathon.
Andy told JMU Journalism: "Chester is Bev's home town and we had hoped her uncle would be able to see us complete the challenge but sadly the illness (cancer) progressed very quickly and he passed away on 8th February."
Bev's uncle Barrie underwent stem cell treatment for his cancer at the Royal Liverpool Hospital as just one of 100 people to receive this treatment.
Unfortunately the treatment was not successful for him, but was for others who had it at the same time.
It is for this reason that the Kielder 3 will give all the money raised for the Royal to their cancer research unit.
The team are keen to boost awareness for the daunting challenge they face and so are urging those interested to visit both their Twitter and Just Giving pages.