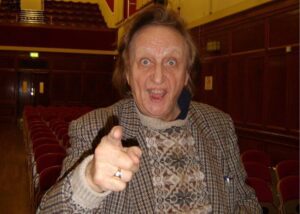 Liverpool is mourning the passing of one of its most treasured showbiz legends, following the death of comedian Sir Ken Dodd, aged 90.
Sir Ken, known to generations for his stage and screen work over a career spanning seven decades, lost his life after recently suffering with a serious chest infection, which had seen him hospitalised for six weeks.
He died on Sunday in the same Knotty Ash house he was born in. It was a district that he made nationally famous as part of his act, along with the Diddy Men, jam butties and his tickling stick.
A book of condolence has opened at Liverpool Town Hall, with flags on civic buildings flying at half mast.
In the city centre, many were keen to pay tribute to the comedy and singing star, with some discovering the news for the first time.
YouTube: JMU Journalism
Cheryl Corbishley, 39, of Walton, told JMU Journalism: "I still can't believe it – it isn't half a shame. The past couple years it's just been one thing after the other hasn't it?
"It has been nice seeing all over Facebook this morning how sad everyone is. It's already clear that he will be missed."
Her sentiments were reflected by 58-year-old Keith Wormald of Kirkby, who said: "He was a Liverpool legend – it's a shame, it really is. At least we still have all his performances and that's what I'll be remembering him for."
Anne Williams looked back with fondness at Doddy's legacy, as the 60-year-old said: "I have a lot of childhood memories of him on television and at the theatre. It's very sad that he's died, but it's a good age at 90."
Scroll through the edited comments below to read more of the reactions to Sir Ken's death.
Reporting by: Danny Moxon; Anisah Arif; Shelby Hamilton; Shaun Keenan; Sara O'Hagan; Matty Davies; Matthew Skelly; Tom Sutton; Jordan Reais; Chloe George; Shaniece Thompson; Becky Jones & Tim Spencer Tanfield.
YouTube: Guardian News
https://www.youtube.com/watch?v=zo2qxl_npP4