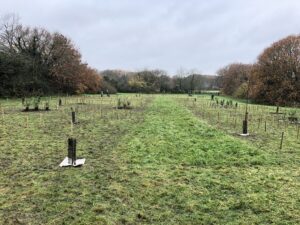 A bid to help fight the issue of climate change was launched at a local level when Wirral Council planted more than 900 trees in Birkenhead during National Tree Week.
The project, which took place at Walker Park this week, involved members from the council as well as local primary schools, volunteers and tree specialist firm, Man Coed VM, which provided sponsorship.
This scheme, featuring efforts by the Wirral Allotment Society, has been done to offset the growing problem with the climate by assisting with lowering the carbon footprint.
Another council aim is to educate the children who took part from Devonshire Park and Prenton Primary Schools about environmental concerns.
Neil Garnett, the Local Area Team Leader for Birkenhead South in the Wirral Allotment Society, believes this project is beneficial and is a step in the right direction regarding the fight against climate change.
Twitter: Stephen Bramhill
Earlier today at Walker Park in Birkenhead where over 900 trees are being planted during #NationalTreeWeek @JMUJournalism pic.twitter.com/4KvDtZEZv6

— Stephen Bramhill (@BramhillStephen) November 26, 2019
He told JMU Journalism: "We really wanted to make a difference. We wanted to bring local schools from the area like Devonshire and Prenton so that when they come back with their children, they can say that they planted those trees and leave their own footprint on the area where they grew up.
"There's great community spirit and it will do wonders to reduce our carbon footprint as well as on the area. We need to act because of the climate's emergency and this is our little bit of what we can do."
Ben Llewellyn, the Operations Manager at Man Coed VM, also believes that this project is beneficial. He told JMU Journalism: "I've worked with the council since 2013 doing all of the tree work for them. We do all of the tree maintenance and safety work but we also do planting.
"A number of trees have come down in the past year or two for safety reasons so we thought it is a good way for us to put something back in the community and sponsor this project by providing trees for them to plant."