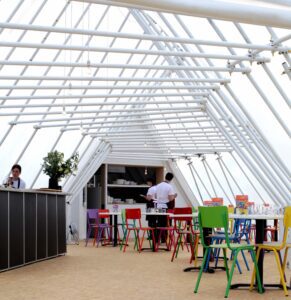 Liverpool will be the second location for transporting restaurant Xiringuito (chi-rin-gito), which will be moved from its present site Margate in a shipping container.
The name is influenced by the Catalan seasonal bars that open up temporarily during the summer months in Spain, and acts as adequate inspiration behind the moveable restaurant.
The structure of the eatery was designed by award-winning architect Asif Khan, winner of a Cannes Lion Grand Prix for Innovation for his design of the MegaFaces Pavillion at the Sochi 2014 Winter Olympics.
It was created with the intention of moving from location to location.
Despite only appearing in the Kent seaside town in the summer of 2016, the restaurant became a firm favourite for locals who will be sad to see it leave the car park in Dreamland, Margate's indie festival site.
Xiringuito will be joining the Cains' Brewery Village project within Liverpool's Baltic Triangle, where it will become a part of the £150 million redevelopment of the old factory.
Moving to Liverpool is a step back home for organisers Conor Sheehan and Jackson Berg, who is the son of FACT founder Eddie Berg. The new restaurant will also feature commissioned menu artwork by illustrator John Booth, plus a separate bar and a weekend brunch menu – both missing from its time in Margate.
Mr Sheehan said: "We wanted to move Xiringuito to a city for the winter months and Liverpool, being our hometown, seemed the natural choice. The bar and restaurant scene there has been burgeoning more and more over the last few years so it seems a really exciting scene to get involved in."
The menu will consist of internationally influenced British dishes, as the pair worked at some of London's finest restaurants, including Jamie Oliver's Fifteen and St John Bread & Wine before breaking off on their own. They also have experience at Liverpool's very own Puschka, where they started out their careers.
Xiringuito Liverpool coming together nicely! We are taking reservations now through the link in our profile #xiringuito #liverpool pic.twitter.com/tl716IsXif

— Xiringuito (@xiringuito_rest) November 7, 2016