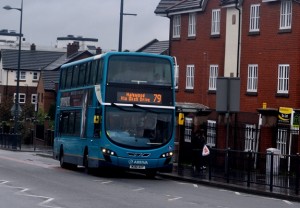 Liverpool Students' Union has announced a new initiative to help LJMU IM Marsh students get to and from university cheaper.
All first, second and third years are eligible to 850 half-price travel passes on a first come, first served basis until January.
Dan Cole, Vice President of the Union and Community Engagement, told JMU Journalism: "I'm so, so pleased to have achieved this win for students, as in my time as Vice President I've not seen something that students have been so vocal about.
"Some students were having to choose which lectures to attend as they needed enough money to live off, so couldn't afford to travel to campus for all lectures. It gave me the passion and determination to pursue this and it's something that is going to make a massive difference, reducing one of the barriers IM Marsh students face."
Dan believes the issue with travel is difficult due to the removal of student accommodation at IM Marsh in recent years.
He said: "It's something I've been working on for about a year now as part of my objectives to tackle the wider issue of the cost and convenience of student travel across Merseyside.
"It's important that Liverpool SU continue to work with the university on initiatives to support our students in any ways possible, and to ensure this is fair so nobody is disadvantaged. It's another clear demonstration as to how important it is that students tell us about the issues that matter to them."
Smithdown resident and IM Marsh student Tatum Hall took matters into her own hands by starting an online petition for cheaper travel in September.
She told JMU Journalism: "I felt really strongly about our travel complications to [university], as we had a trial shuttle bus that was taken away from us after it being so successful. Starting [the petition] was, in my opinion, better than complaining, but doing nothing about it."
Tatum said she had a great response from students, including first years who would have to pay more for transport next year.
She said: "I feel happy that I've helped Dan gather evidence to show the university that travel is an important issue and students need a form of travel, as we did not choose to have a campus not in the city centre."