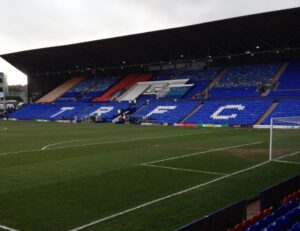 Tranmere Rovers will host a series of events around the Christmas period for those who are less fortunate than others.
This is the third consecutive year that the club have held such events for locals in need.
The event runs in line with the club's community ticket initiative, which enables disadvantaged people to attend Tranmere Rovers home matches at Prenton Park.
Some of the activities to be hosted include a children's Christmas party, where children will meet Santa and receive a gift each.
Hot meals will be provided at some of the events for adults and on December 25th the club will be inviting care leavers to Prenton Park for Christmas dinner.
On December 19th, before their game against Blackpool, they will be hosting a lunch specifically for adults in need at the Tranmere Rovers Recreation Centre on Borough Road, from 12-2pm.
They will provide adults with a hot meal, someone to talk to and a safe place to be over Christmas, along with tickets to the Blackpool fixture.
YouTube: Tranmere Rovers
Club spokesperson, Hannah Naylor, told JMU Journalism: "Tranmere Rovers is more than just a football club. We pride ourselves on the work we do in the community. We wanted to open up our facilities, so people can come and feel welcome and get into the Christmas spirit that they may not be able to at home.
"The people who will be working on the events will be staff and volunteers. As for the food for the adults and toys for the children, we receive donations off fans and people from the community."
The club is collecting food donations for hampers in the run up to Christmas in what they are calling a reverse advent calendar, with items passed onto those struggling to afford it themselves. Donations such as non-perishable foods, warm clothing and toiletries are all welcome.
Ms Naylor added: "At the adult Christmas party, we are going to give the hampers out, so people leave with 25 days' worth of food."