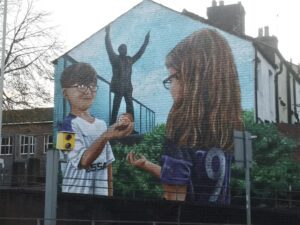 A mural dedicated to supporters of Wirral food banks has been unveiled this week by renowned artist Paul Curtis in Birkenhead.
The colourful scene which depicts two young Tranmere Rovers fans sharing a tangerine was finished on the gable end of a terraced house which faces out on to Borough Road and can be seen by thousands of commuters and passers-by.
The mural is a collaboration with Tranmere Rovers Support Trust, a fan group that works extensively with food banks during lockdown.
Curtis, who has painted a series of murals across Merseyside after shooting to prominence with his popular "For All Liverpool's Liver Birds", told JMU Journalism:
"It's a piece to say thank you to all the volunteers for that time. We were coming up with ideas as to how do we represent a food bank, but in a positive way.
"The idea was to depict two children sharing food so we had to get the two kids to model the photo. The guys from Tranmere Rovers asked two fans to come along, a boy and a girl, and I had to get them to pose in this fashion."
Watch Paul Curtis as he talks to JMU Journalism about his latest mural>>>
Responding to the government's decision not to fund free school meals over the half-term holiday, a donor at Tranmere Rovers Trust has agreed to pay for every child's meal at Christ Church Primary School that sits next to the new mural.
The Trust felt it was important to portray the right image and consider carefully how they portrayed the piece.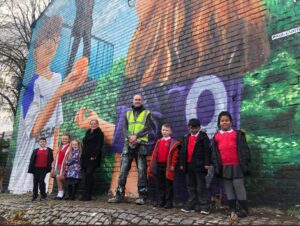 Said Curtis: "If you're trying to do something that represents food banks it can be difficult. Initially we were coming up with images showing despair, and while that is the reality of the situation, it wouldn't have looked so good on a mural.
"We kind of said, let's focus on the positive aspect of it and what the volunteers do, and that they are providing a service. It's a service we shouldn't have, but they're doing good, so we wanted to do it in a positive light, hence why we've got the children sharing food."
At the time of writing, the Tranmere Rovers Trust crowdfunder 'Half Term Meals for Local Children' has raised nearly £4000 of a target £4500.
For more information or to donate HERE.