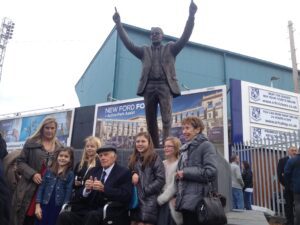 Hundreds of football fans gathered outside Prenton Park on Saturday in an emotional tribute to Tranmere Rovers legend, Johnny King.
Crowds cheered and applauded as a statue of the club's most successful manager was revealed just after midday outside the Main Stand.
Among the cheering supporters was former player and manager, Ray Mathias, who made 567 appearances for the Wirral-based club and worked alongside King in various roles throughout his career.
Mathias told JMU Journalism: "I think it's a very special occasion to the club to have a person like John King and to have a statue outside the ground. His achievements at the football club, certainly between 1987-96 when the fans, the club and the players were going to Wembley every year for six or seven years, were absolutely fantastic."
The statue was paid for by major fundraising efforts by the club's fans and was made by Liverpool artist, Tom Murphy, who is also responsible for the Bill Shankly and Dixie Dean sculptures which stand outside Anfield and Goodison Park.
Labour Councillor for Prenton, Paul Doughty, is a lifelong Tranmere fan who helped design the statue. He told JMU Journalism: "I think it's amazing. I think it is fantastic that the fans have come together and paid for it and it looks fantastic.
"To the fans it means that we still relive the glory days when 'Kingy' was our manager and although things aren't going well at the moment, we have seen success and we know it can happen again."
Johnny King attended the event with his family, wearing a Rovers scarf and the signature jacket displaying the club's crest that he wore in his time as manager. While in charge, he secured the club's promotion success three times.
Tranmere Fan, Rob Collins, 24 of Ellesmere Port, told JMU Journalism: "I think it means everything to the fans. The emotion here today was really quite something. It was a bit before my time, the whole Johnny King era, but especially to fans of a certain age it means absolutely everything."
Tranmere went on to earn a point in a 2-2 draw against Hertfordshire side Stevenage as new manager Micky Adams seeks to turn the side's disappointing start to the new season around.