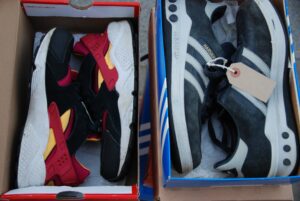 The Laces Out! Trainers festival made a successful return to Liverpool at the weekend with hundreds flocking to the event.
The festival made a comeback as it became a popular spectacle after the first event in October last year. The second sneaker festival, which attracts trainer enthusiasts where rare and retro trainers are sold, was held at The Camp and Furnace.
Liverpool-born organiser Ian Richards, 42, spoke to JMU Journalism about the day's events. He said: "We absolutely exceeded all of our expectations today. In the first Laces Out! I think we had about a 1,000 trainer heads that came through the venue. I have yet to find out final figures but I would say we easily hit about 1,700 to 2,000 people."
The popularity of the only trainer festival in Liverpool meant that the second instalment was double the size, spreading across the two main rooms in Camp and Furnace. There were more stalls, sneakers, sellers and organiser Ian is already looking ahead to hosting another potential festival.
He said: "It was an amazing atmosphere, [with] some fantastic designs… we are talking to the organisers about repeating that maybe for late summer."
Chloe Reece, 28, who attended both trainer festivals, told JMU Journalism: "I was actually one of the people who came last time but obviously more people have heard, word got out and this time around it is much bigger, with more stalls and different things for people to go to."
Liverpool resident Russell O'Sullivan came to the second instalment of the event after hearing about it and becoming intrigued. The 25-year-old told JMU Journalism: "It is decent because there is nothing like quite like it and it is something that anyone with a pair of trainers can come to, so it is really good."