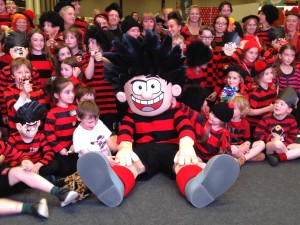 A first-of-its-kind toy show could return to the city following the success of its debut over the half-term weekend.
Toytopia was held in Liverpool's Exhibition Centre last weekend with exhibitors and families packing out the hall and big names such as Beano, Lego, Playmobil and Sylvanian Families featuring prominently.
Toytopia partner Nigel Warway, who heads the company with partner Simon Pilling, said the group is open to exploring a return to Liverpool.
He told JMU Journalism: "What we're bringing to this particular location is an event that's never been held in Liverpool before or the North West region.
"You could say this is totally unique. We're taking it to a location where, I believe, is probably the best location actually in the UK, in terms of facilities here at the Exhibition Centre Liverpool.
"The people are absolutely fantastic, but then also, as well, is the location at the Albert Dock. The way that it's been completely re-modernised over the past 10-15 years. We couldn't pick a better location."
The success of its first outing followed 18 months of planning and development and Warway said a return is seriously being explored.
"The feedback from all the consumers that have come to the show, the feedback also from the exhibitors, they all want to come back here next year," he said.
"The dwell time has been much higher than what we expected, between three to five hours, which shows you that the parents and children are having a fantastic time when they're here.
"Going forward we'll be looking at new retail, bringing it in a retail shop with a prestigious company and we may, if we go back to Liverpool, we're looking also at hiring out the [Echo] Arena next door where we'll do prestigious shows, so it will be to go to Toytopia afterwards."