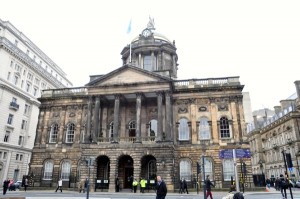 Ladbrokes has been refused plans to open a betting shop opposite Liverpool Town Hall.
City bosses have decided against the plans because of the importance of the city's World Heritage Site (WHS).
The proposed betting shop would have stood at the junction of Castle Street and Water Street, in place of the former Starbucks.
The council opposed the plans because of alterations Ladbrokes intended to make to the building.
Many buildings in that area are renowned for their character, making Castle Street a prominent place in the city centre.
A city council spokesperson told JMU Journalism: "This application was refused because it was felt that the satellite dish and other equipment associated with it would be inappropriate in a sensitive location, which is in the setting of a listed building and is in a conservation area and in the World Heritage Site."
The WHS's in Liverpool are protected because of their value as historic monuments and contribution to the international community.
There are six WHS's in Liverpool, including the Albert Dock Waterfront, Ropewalks, William Brown Street and the Pier Head.
Liverpool is one of few cities in the world which have been awarded the status. Others include Edinburgh, Vienna and Cuzco.
It is possible that Ladbrokes will try to appeal against the decision.
The WHS status raised concerns last year after the council approved regeneration plans for the waterfront.
Peel Holding's proposals were permitted, in spite of warnings that the plans would have a significant negative effect on the city's WHS.
The United Nation's cultural inspectors highlighted the warning to the council, but were ignored in favour of the waterfront scheme.
https://www.youtube.com/watch?v=X9ml0ky3aE8