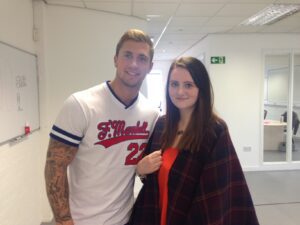 Reality star Dan Osbourne has hypnotised the nation with an insight into his personal life on the hit ITV show, The Only Way is Essex, but he's now turning his hand to acting.
Osbourne is set to play the lead role in the Jack and the Beanstalk pantomime at the Epstein theatre.
In an interview with JMU Journalism the TOWIE hunk talked about his excitement for his pantomime adventure and the Christmas period.
The 23-year-old will be making his acting debut at the Epstein appearing in 49 shows throughout December and January.
He told JMU Journalism: "It's exciting, I mean we have only been rehearsing for three days now but it is actually really good fun. It is better now I can actually act and be someone else, instead of just playing myself like I'm used too.
"Obviously it is completely different as I have to learn a script and it is all very new to be, but I am enjoying every bit of it. I have always wanted to act and I know it is only jokey acting, but it's fun to play someone else and embarrass yourself and not care."
Dan's son Teddy was born just before Christmas last year so the reality TV heartthrob is looking forward to celebrating the festive season with his family.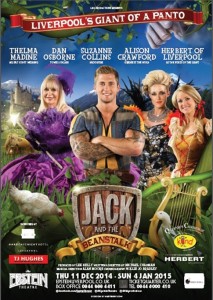 He said: "I love Christmas. It will be hard because I won't be around my family for the whole of the Christmas season, but my family will come up and see me.
"Now I've got Teddy it makes it even more special and he will have only have just turned one this Christmas so obviously he still doesn't know what Christmas is.
"By next year though, when he is two, it will be even better because he will be speaking, walking and all that kind of stuff so it will be a lot better.It will obviously get better as he gets older and understands more. Until he starts asking for new cars!"
The Essex man told JMU Journalism that he has only ever visited the city on a handful of occasions but is looking forward to having a look around.
He added: "I am enjoying Liverpool it's nice. I have only ever been here before for a night out or a personal appearance so I have always had to leave straight away the next morning, but now I get to stay here."
Apart from TOWIE, Osbourne has only ever performed on stage alongside well-known male strippers, The Dreamboys, and he plans to tour with them nationwide next year.
Of his upcoming panto performance, he added: "I am probably most nervous about singing on stage and remembering the lines. In three days I have learnt more or less the whole script, which is impressive because I am in the whole show and I never thought I would pick it up that quick. I am obviously nervous that I don't want to mess up, but I'm more excited than anything."
Osbourne's first show will be at the Epstein on Thursday, 11th December.