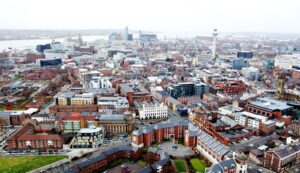 Liverpool has received a £55million boost to the economy thanks largely to a surge in tourism in the city.
An estimated 1.4 million people visited Liverpool to witness the three big events of 2014: the Mersey River Festival, the Giants Spectacular, and the Liverpool International Music Festival.
It is though that more than 30,000 of these visitors came from overseas for the showpiece occasions.
Assistant Mayor and cabinet member for culture, events and tourism, Councillor Wendy Simon, said: "From events that boost the local economy by millions and bring in record numbers of visitors, right through to supporting local arts organisations and facilitating a wide variety of filming in the city – Culture Liverpool's contribution has a vital impact on the city as a whole.
"We always knew that 2014 would be a big year in terms of events with the return of the giants, but it's reassuring to see other parts of the culture portfolio thrive."
Aiding the success of last year, a record number of weddings were held at St Georges Hall, with more 1,000 couples tying the knot at the historic landmark.
Tourism was also boosted as Liverpool was chosen for the location of over 250 television and film productions, which added more than £10.7million to the Merseyside economy.
A spokesperson for Liverpool BID Company, which represents over 600 businesses in the city centre, told JMU Journalism: "The events programme is a lifeblood for businesses in the city centre, especially in the hospitality sector. These types of events are crucial for driving tourism and economy.
"Delivering spectacular and memorable events is part of the city's reputation that was recognised when we were named the European Capital of Culture in 2008."
The new report that outlines the success of tourism last year will be delivered on Tuesday 3rd February to Liverpool Council's Culture and Tourism Committee.
Liverpool City Council aims to make this year more successful than the last by widening and diversifying their programme of events.
Director of Culture at Liverpool Council, Claire McColgan, said: "Liverpool is an incredibly ambitious thought-provoking international place and an inspirational canvass for all artists, creative and entrepreneurs and 2015 promises to build on this, with ships… lots of them."