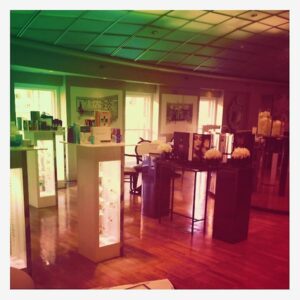 Upmarket store chain Harvey Nichols are set to open their 'Beauty Bazaar' in Liverpool.
The store, claimed to be one of a kind, will open later this year in Liverpool One shopping centre.
Harvey Nichols will be hosting what they decsribe as the UK's only one-stop beauty destination, where customers will be able to get beauty treatments and buy products which are exclusive to Liverpool, as well as familiar international brands such as Chanel and YSL.
Liverpool girls have a reputation for glamour, so the new store which is spread across three floors aims to appeal to Scousers who love getting pampered and dressing up.
Harvey Nichols spokesperson Annika Zarifian told JMU Journalism: "Whilst in the planning stages, location was a major consideration factor.
"A strong deciding factor was the statistic that in the UK, second to Londoners, Liverpudlians spend the most on beauty and grooming, which is three times the national average spend in this sector.
"We want to appeal to the masses whilst maintaining our prestigious and luxurious edge."
Harvey Nichols Beauty Bazaar will be situated in Liverpool One's designer fashion street on Peter's Lane, alongside shops such as Karen Millen and Reiss.
The ground floor will be where the beauty, skincare and fragrance brands are on sale.
The first floor will be  a champagne and cocktail bar with a glass frontage, making sure shoppers can see what's going on inside.
The bar will sit alongside some open treatment services, including Mark Woolley's Electric Hair Lounge and Blink Brow Bar, which will no doubt appeal to the girls of Liverpool to maintain their ever popular 'Scouse brow'.
Finally, the top floor will be the place for more private services such as waxing, Botox and teeth whitening services.
Daniela Rinaldi, the group's Concessions and Beauty Director,  said: "Globally, this will be the first time international and premium brands will be housed within such a luxurious environment, anchored by a fabulous champagne and cocktail bar, to ensure that Beauty Bazaar is an experience like no other."