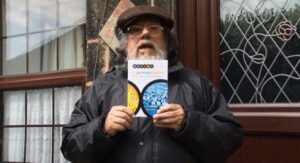 Actor Ricky Tomlinson has a new starring role in movies to help prepare Liverpool's residents for winter.
Ricky has featured in three short films as part of the 'Let's get ready Liverpool' campaign set up by the city council. The emergency planning campaign provides advice and guidance to residents about what you can do to prepare for unexpected emergencies.
Tomlinson, who has been made ambassador for the Liverpool Older People's Awards, features in the clips about about taking simple and practical steps to be ready for emergencies.
He said: "I was pleased to be able to help with these films. They remind everybody of some very simple things they can do to look after themselves and, importantly look after those such as elderly neighbours who may need some help."
He jokes: "It is so simple even Jim Royle would find it no trouble to do!"
The short films are also part of the council's Winter Survival Campaign which aims to reduce the number of unnecessary deaths and illness during severe weather.
For the campaign this year, the Royle Family star was asked to be involved to create something different to other campaigns ran throughout the country and that would get Liverpool residents to notice.
Paul Byrne, Senior Emergency Resilience Officer, told JMU journalism: "Other awareness campaigns throughout the country were a bit stale and dry, we chose to go for something more quirky.
"Ricky has a big personality in the Liverpool environment, people can relate to him."
Mr Byrne added: "The bottom line is that we are all vulnerable in an emergency."
The campaign aims to make people more prepared to face unforeseen circumstances. Due to cuts to the public sector, there is less support for people and the council are trying to get residents better equipped.
The message behind the campaign is: 'Be aware. Prepare. Keep warm and keep well.'