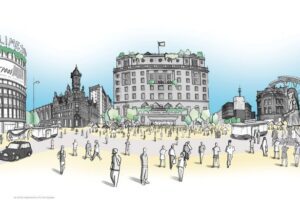 Ambitious plans have been revealed for a new pedestrianised public square that may be built in front of Liverpool's Adelphi Hotel.
Knowledge Quarter (KQ) Liverpool unveiled their design of 'Lime Square' between the Adelphi and Lewis's, where today stands a busy junction.
This development comes alongside a bid to create a 24-hour, eco-friendly transport link between the proposed square up as far as Edge Hill station.
KQ, along with Liverpool City Council, are hoping for the new space to be Liverpool's version of Times Square.
Mayor Joe Anderson said 21st Century Liverpool is "a visionary city full of ambition and opportunity and we are excited to see such innovative ideas coming out of the Knowledge Quarter".
YouTube: Abby Nicholson
The plan would mean that the busy city centre junction would be scrapped, leaving local buses to re-route to and from Liverpool One and Queen's Square bus stations.
The proposals received enthusiastic backing from some locals.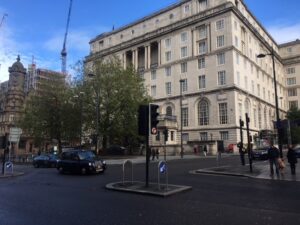 Ted Brennan, 67, from Tuebrook, told JMU Journalism: "It would be great for the community. If we could do this and improve the look of the hotel it would be fantastic."
Lauren Oakey, 22, from Wavertree said: "I think it would be good for local businesses as it's so close to Lime Street, but it would be a nuisance having to re-direct all the traffic."
Visitor to the city, Emma Sharp, 38, from Leicester, told JMU Journalism: "I know they're going to have to rework all the traffic, but I'm sure they can do that. They managed it in Leicester."
The Lime Square plan, will now be considered by Liverpool City Council.