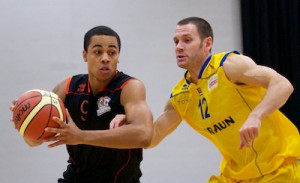 The Mersey Tigers showed signs of troubled times at the club as the defending champions lost their opening EBL National Trophy encounter 56-99 to One Health Sheffield Sharks.
Despite winning three out of four possible BBL trophies last season, the Tigers have had a difficult summer battling for survival. Financial worries and losing key sponsors have led to a question mark about the club's future.
Important players have left the club during the break, including the Tigers captain Andrew Sullivan. In the first match of the new season, the Tigers were always second best against the Sharks.
The visiting team, who clinched the last of the four BBL trophies last season, showed their superior strength from the first minute, and after the first quarter the score was 19-23.
Former Tigers player Nate Reinking led the Sharks into half-time with an impressive 32-49 lead. After the break, the Tigers fell apart, and 22 points from Jimmy Langhurst secured a comfortable 56-99 win for Atiba Lyons' men.
Tigers' coach Tony Garbelotto told JMU Journalism after the match: "Sheffield Sharks looked sharper than us. It looked like we didn't know each other – and that's true.
"I don't think anyone can read anything out of this performance tonight simply because it's so early for us. We can only really be judged at the end of October when we start to play the regular BBL season."
The Tigers have for the third year in a row had to move venue before the new season. Garbelotto did not hide his mixed feelings about playing at the Knowsley Leisure and Culture Park.
"The venue has just been built and I think it looks good, but it will take some time before the players get used to it here," he admitted. "When we get to the middle of the season we can hopefully use the advantage of playing at home, but at the moment it is a neutral venue for both teams."
The coach explained that the resounding defeat was a result of missing "simple basketball principles".
He said: "You need to have a pre-season, the players need to practise and to play preparation games. We had most of our players in last night, and to be honest, we've only had one practice before this match.
"We also played against a team that I think will challenge for some sort of trophies this year. The summer has been tough, but we'll just have to see how we get on in the next couple of weeks."