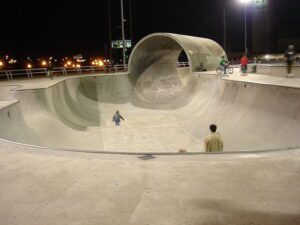 Three new skate parks are to be built in Liverpool this year following a £1.5m funding scheme for young people.
The investment, announced by Mayor Joe Anderson in 2013, introduced the inclusion of skate parks following a campaign by a group of young people, with the backing of Merseyside Youth Association (MYA).
The parks are being introduced with the aim of acting as a safe place for young people to meet and enjoy themselves, away from the stigmatisation they can receive over youth culture.
MYA Youth Co-ordinator, Brendan Burton, told JMU Journalism: "It's important that youth-designated areas are developed in the city as it gives young people a space where they can safely meet with other young people, in a society where such spaces are diminishing.
"We're in an age where young people can be portrayed as troublesome and anti-social when they gather in areas that are not designated for youth. More important than this is that young people are actively supported to participate in the design and development of such youth designated spaces.
Although the skate parks will benefit young people, the scheme has been met with frustration by Rampworx, which is a local charity skate park establishment, which was set up in 1997.
Rampworx helps youths from disadvantaged areas across Merseyside through a range of developmental activities. Tony Berry, Community and Sports Development Manager at Rampworx, told JMU Journalism: "We feel slightly frustrated that as a local children's charity that benefits hundreds of local young people, we have neither been consulted about this project, nor have we ever been supported by Liverpool City Council in the 17 years that we have been in existence."
The charity, which develops internationally-renowned athletes and hosts national and international events throughout the year, wishes the council would have focused on the redevelopment of existing skate parks, before building new, outdoor ones.
Mr Berry said: "This is an example of the council's short sightedness and lack of thought when developing what should be a very good development for extreme sports riders, which we no doubt support. The question would be why not support an indoor facility in, or close to the city centre?
"The more facilities for young people the better, but why not include those who already provide a successful service and have the expertise in the planning and delivery process?"