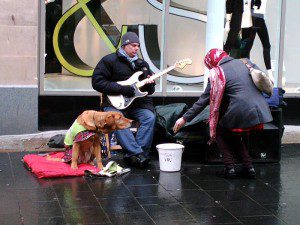 A blind busker who had expensive guitar equipment stolen from outside his home has thanked the public for their generosity.
Andy Joynson, who has been blind, from birth lost amplifiers and an aluminium trunk during the theft.
The talented rock fan has been entertaining city centre shoppers for upwards of 10 years. Well known for playing the electric guitar on Church Street every week, Andy returned home to Ramsbottom after a day performing in Liverpool.
The guitarist, who performs as Andy J, left his trunk at the foot of the steps outside his house as he ran inside from the rain with his guide dog, Toffee.
The trunk, which was attached to a wheeled trolley, also contained Andy's collection bucket and his CDs.
A GoFundMe page has been set up by Andy's daughter Lisa to help replace the equipment and other donations have also received, such as second-hand amps from local radio stations.
Lisa told JMU Journalism: "We are astounded by the support that total strangers have been giving my dad and hopefully we will get his equipment replaced as soon as possible and he'll be back to entertaining.
"The ordeal hasn't deterred him, he's very excited to get back to work."
More than £4,000 has been raised by generous members of the public to get Andy and his dog Toffee back performing in the city centre.
The dad-of-two issued a statement on the fundraising page, yesterday, saying: "This is an update to not only thank you for your wonderful support and generosity, but to say that with all your extremely generous donations I am going to replace what's missing and make a donation to the guide dogs.
"This has been an overwhelming experience and I again can't thank you enough for your support and generosity.
"You have made me so proud of what I do, I never possibly imagined we would get this much support. Thanks again from the bottom of my heart."