More than 70 pupils from schools across Merseyside attended LJMU's 'Inside News' day on Tuesday, held in partnership with the BBC's Young Reporter programme.
Pupils from year 10 and above were given the chance to take part in a variety of workshops run by BBC and LJMU staff – ranging from filming with a smartphone and podcasting to broadcasting a live TV news bulletin.
They were also shown ways to help them spot misinformation and disinformation, and looked at the potential challenges of bias and echo chambers.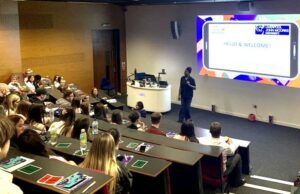 Nassem Akhtar, Events Producer for BBC Young Reporter, said: "It was wonderful to be working in partnership with LJMU again. I was really impressed seeing students share their ideas, getting fully engaged and involved in the workshops.
"As the sessions went on, it was great to see students come out of their shells and grow in confidence. The workshop trainers have been full of praise for the team at LJMU, the organisation on the day and the facilities. I hope we can do this again next year."
YouTube: JMU Journalism
It's the third time the event has been run and only the second face-to-face.
Head of Journalism, Fran Yeoman, said: "It was wonderful to see so many young people from across Merseyside on campus, experiencing a taste of life as a student journalist. LJMU Journalism's collaboration with the BBC has so far allowed hundreds of pupils to try out new skills and consider potential careers in the media and it was brilliant to see the talent and enthusiasm of the future reporters who came to this year's event."
Another highlight of the day was the careers panel, featuring Birkenhead-born journalist Ellis Palmer, Becky Davis, LJMU alumni who now presents on LFC TV, and the executive producer of the BBC Academy, Kully Khalia.
The BBC's Young Reporter competition is now open to anyone aged between 11 and 18.
@BBCYoungReport @JMUJournalism @LJMU #BBCYoungReporter #StoriesSkillsFuture #LJMUNewsday pic.twitter.com/vhtGGnqjBJ

— Vanna Thompson (@VannaMedia) June 21, 2022
Following the announcement of #BBCYoungReporterCompetition winners yesterday, today we're back in the swing with sharing news literacy, jobs in journalism and media skills with young people from schools across Merseyside!

???? for co-hosting again with Team @JMUJournalism https://t.co/bAo0CvvEDz

— BBC Young Reporter (@BBCYoungReport) June 21, 2022
It is a jam-packed day of #MediaSkills sessions with the @JMUJournalism team today, including sharing top tips about producing podcasts and how to record video (and quality sound) on a smartphone!#BBCYoungReporter does #StoriesSkillsFutures pic.twitter.com/4VhkjZRrAX

— BBC Young Reporter (@BBCYoungReport) June 21, 2022
Workshop 1. Podcast session #LJMUNewsDay @BBCYoungReport @LJMU @JMUJournalism pic.twitter.com/z2PAB28aWa

— Michelle Ponting (@MichellePonting) June 21, 2022
Some of the students at today's #LJMUNewsDay with @BBCYoungReport getting to grips with the TV studio gallery. @LJMU @JMUJournalism pic.twitter.com/6EWXN22K2u

— Adam Tiffen (@AdamTiffen18) June 21, 2022
Great #BBCYoungReporter & #LJMUNewsDay today @ljmu @jmujournalism Wish I had trips like this at school! Thanks to the team @BBCYoungReport for joining us. pic.twitter.com/fsYoVFv7K0

— Michelle Ponting (@MichellePonting) June 21, 2022
Thank you so much to @Childwall_acad @HFCHSThornton @SJBLiverpool @CaldiesSchool @uptonhallfcj @COLCollege for joining @LJMUScreen @LJMUOutreach @JMUJournalism today! We look forward to welcoming you back to @LJMU very soon! https://t.co/gaFhutm2Zn

— LJMU Outreach (@LJMUOutreach) June 21, 2022
Fantastic to hear you enjoyed the day @SJBLiverpool – let's do it all again next year! @LJMUOutreach @JMUJournalism @LJMUScreen https://t.co/a5yTxhDm0I

— LJMU Outreach (@LJMUOutreach) June 23, 2022