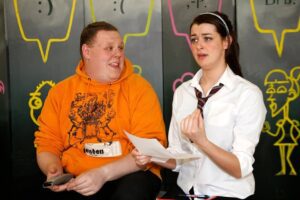 A local theatre company, Altru, is touring schools throughout the North West with their production 'Sticks and Phones' in association with National Anti-Bullying Week.
The company, based in Huyton, is performing its anti-bullying play to students aged five to 12. It tackles the growing concern of cyber bullying and teaches youths how to deal with such issues.
Harriet Preston is a member of the cast, and she thinks the show has the ability to keep kids clued up about online bullying.
She told JMU Journalism: "As social networking sites and mobile phones become more popular amongst young children, it is becoming increasingly difficult to tackle this new kind of bullying, as a lot of it happens outside school hours."
The group also holds workshops for years five and six that are tailored to each school.
Harriet added: "One school asked if we could talk about homophobia in our workshop, as it was becoming an issue amongst their pupils. We are talking to the children about the real meaning of the word 'gay' and why it shouldn't be used as a negative insult."
The play encourages its young audience to unfriend bullies from Facebook and tell a teacher or parent.
The group will run the workshops up until 7th December. It tackles verbal and physical bullying as well as cyber bullying.
National Anti-Bullying Week takes place between  November 19th to 26th.