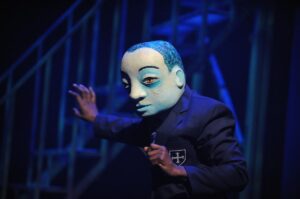 An award-winning theatre company has announced a new packed-out list of events to celebrate its 10th anniversary.
The local group, 20 Stories High, which was founded in 2006 by Julia Samuels and Keith Saha, deals with theatre involving a number of young people from excluded communities, with the ethos that "everybody's got a story to tell and their own way of telling it".
The first of the celebrations began this week with hip-hop gig, The Broke 'n' Beat Collective, which runs until February 13th. The musical act is infused with puppetry and the artists that take to the stage share stories from a number of younger people's struggles.
The tales explore how individuals cope in the challenging world today, what breaks them and what can make them feel strong again.
Tina Taylor, general manager of 20 Stories High, told JMU Journalism: "To celebrate our 10th birthday year, we have 10 new events and announcements planned ahead. For this weekend, we've got a flashmob and pop-up performances by our young people happening in Liverpool One, starting at 12 noon and every half an hour until 2.30pm."
The charity, a part of the Art Council's national portfolio of funded organisations, initially started off with only 25 locals on board. Since then, on average the company has reached almost 2,400 participants each year from a number of culturally diverse communities in Liverpool, as well as from around the UK.
The company's success doesn't stop there, however. Over the years it has won a series of prestigious awards, including the Brian Way Award in 2011 for the play Ghost Boy, which was named the best UK play for young people.
Tina added: "When we set up the charity 10 years ago, we were a grass-roots organisation with aspirations of taking plays out locally to young people in schools and youth clubs.
"We knew we wanted to create work with and for young people, but we couldn't have imagined that we'd become a national touring company, visiting venues across the UK and sharing practice nationally."
Other events and announcements scheduled include a Thursday Night Mic Club for young people in Toxteth, an autumn re-tour of HEADZ monologues and the launch of young writers' programme.