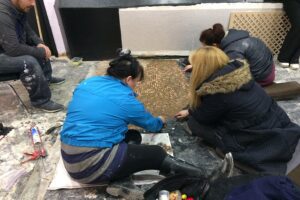 An Everton venue is undergoing renovations which include an unusual money-themed dancefloor scheme.
The View Function Suite and Bar has taken on the 'Penny Floor Challenge' to create their new floor made up entirely of copper coins.
The owner, Christina Harrison, didn't want a conventional approach as she was aiming for something a bit quirky to get people talking.
She told JMU Journalism: "I love doing something different than everyone else, so when we began redecorating I was looking for unique ideas and spotted the penny floor online.
"By the time we had got a quote for the flooring, it was working out a lot more for conventional laminate flooring. I thought we should give it a go, so the challenge was accepted and the appeal for pennies began."
The 20 by 15-foot dancefloor should add up to around £1,000 in pennies when it's completed.
YouTube: JMU Journalism-Nicole Quinn
Christina's daughter is part of a Morris Dancing group that usually spend around £2,000 on uniforms for their 80 members. They were looking for sponsorship and Christina was looking for pennies, so they came to an agreement.
"Instead of them paying for the dresses. I told them to donate me pennies and we'll do a deal with it. That was our challenge to get them enough money. They also did bag packing to gather pennies for us."
She added: "We get quite a bit of interest from our local community, we try to do fun-day events to get them involved as much as we can.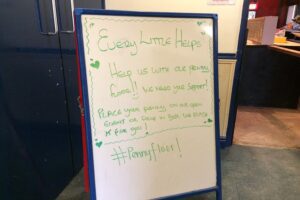 "The banks are sick of me going in asking to get money changed into pennies. We also have local hairdressers, butchers and shops collecting pennies for us."
The floor has to be completed by March 4th, as there are parties booked in.
Surprisingly, it takes a lot more work than just placing the pennies on the floor.
Christina said: "We have only got a week and a half left to complete everything. It will take around four days to lay all the pennies with our little team. Then we need to get it grouted, cleaned off and then an epoxy resin that needs two or three days to set before we have the parties in.
"We are on target to finish on time. I have always been one for time-keeping – you can't afford to go over your time in this business."