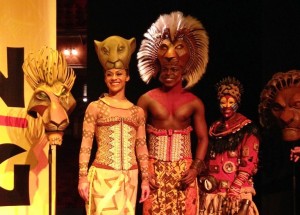 Disney's legendary musical 'The Lion King' will come to Liverpool later this year and has already broken records with the largest advanced sales the Empire Theatre has ever seen.
The production will run in the city for seven weeks from May as part of its sell-out tour, which has been seen by over 70 million people across the world.
Stephen Crocker, the marketing director for Disney Theatrical, told JMU Journalism: "When 'The Beauty and The Beast' hit Broadway in 2001 we decided the Lion King had to be next."
There are over 200 puppets in the performance, 700 costumes and 150 people involved, with a fleet of 23 trucks to transport Disney's enormous equipment, props and scenery to the city, making it the largest theatre production ever to tour Europe.
In an event to mark the arrival of the show three cast members sang and performed parts of the musical, a teaser of what can be expected from the spectacular show.
Gugwana Dlamin, who plays Rafiki, featured in the soundtrack of the original animated film which was released back in 1994. She told JMU Journalism: "My involvement with the Lion King actually started as a teenager when I was part of the sound track for the animation film.
"I became a part of the theatre production in 1999 when the show began in London, and took the part of Rafiki in 2002. I have toured across America and Singapore, performing in places like Las Vegas. I have been in the show for many years now, but every day feels new because there's a different audience every night. I still get a thrill from it every day."
Mersyside's Ava Brennan plays Nala in the production. Speaking to JMU Journalism, she said: "Nala is such a strong character. I think I can relate to her in a lot of ways and I feel I have a strong connection with her character. It's my first time performing at the Empire, so it's quite daunting, but it's good to be performing in Liverpool… it's very exciting."
Thanks to Director and Co-Designer, Julie Taymor's vast experience in theatre style and culture, she has turned the story of Simba and his journey through life into a magical theatrical experience for adults and children alike.
Mr Crocker said: "The show appeals to such a broad spectrum of ages – I have seen huge extended family groups, made up of four generations that have come to watch the show together."
Additional reporting by Jess Watters