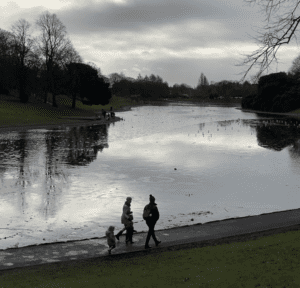 With the country stuck in a national lockdown, taking a daily walk has become the highlight of many people's day.
As long as people adhere to a social distance and behave in a responsible manner, walking is a fantastic way to get out the house and enjoy some fresh air.
Whether it be going solo or with someone from the same household, it can be an enjoyable activity for all ages whilst improving a person's mental wellbeing.
However, with half-term for many school and nursery age children this week, parents and guardians are being reminded to adhere to national lockdown rules when going outside.
Prescot South Councillor for Knowsley, Kai Taylor, is encouraging people to get out for their daily exercise, but also to remain vigilant.
He said: "There is signage on display at all of our local parks and I would continue to encourage residents to visit them in order to get out the house and exercise whilst observing social distancing measures.
"The COVID-19 vaccination programme in Knowsley is progressing well with over 25,000 residents now having received their first jab, so it's important we keep progressing towards the end of the pandemic in these crucial weeks ahead."
Pat Sullivan is chairman of the Liverpool Ramblers and is keen to highlight the physical and mental benefits of walking.
He said: "To take part in good exercise does not have to be very strenuous or involve expensive club memberships and venues, classes, or special kit. Walking, simple walking brings the same benefits to the body and mind, though it is a good idea to wear the right shoes!
"Scientists have shown that when we exercise, chemicals which make us feel happy are released in our brains – dopamine, endorphins, serotonin. Exercise also helps us get rid of chemicals that induce feelings of stress or anxiety."
Mr Sullivan, who has seen more young people joining The Ramblers from universities in Liverpool during recent months, says walking is something for all ages to enjoy.
He said: "It doesn't have to be fast and furious or a marathon. A steady, comfortable pace is fine to start with. Try doing a kilometre in 15 or 20 minutes, then go a bit further and a bit faster aiming for an hour or so a day. Around Liverpool there are plenty of marked routes in many parks, but you can just walk anywhere."
So whether you live near Sefton Park or Stanley Park, get outside, and enjoy their beauty.
@SamuelHodgkiss has been reviewing Liverpool's parks so you know the best place to take your afternoon walk????‍♀️? #liverpool #merseyside #parks #walk #lockdown #nature pic.twitter.com/Eq1jEM0LEO

— Liverpool Life (@LivLifeMagazine) February 16, 2021