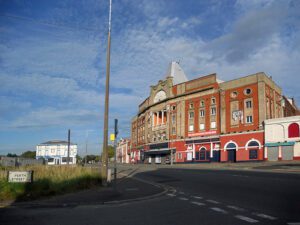 The owner of The Grafton has said that the former nightclub is now safe and is still being used after part of it collapsed.
Fire crews and rescue teams were called to the building at around 1.30am on Sunday morning after they received reports that parts of the front of the building had crumbled and fallen onto West Derby Road. No injuries were reported.
Chris Zorba, the owner of The Grafton, said the front collapse happened because of the recent weather conditions and the damage has now been repaired.
"It was just a freak accident that happened due to the extreme weather. It was just an ornate part of the front of the building which came away and when the snow soared, it expanded and some of the brickwork came apart and it collapsed, but it wasn't part of the structure as such.
"It was just an unfortunate episode and it was lucky that nobody got injured. The building was passed safe by Liverpool Council on the night when it happened."
The famous building opened in 1924 and turned into one of Liverpool's most popular nightclubs before closing in 2008, but it is still used for events at the Olympia, which is also owned by Mr Zorba.
He said: "The Grafton is still used for events, it's part of the Olympia. When we have got large events that take place in the Olympia then The Grafton could be used for VIP areas or bar areas."
Although it is thought that the building will not open again as a club, Mr Zorba said that it may be sold in the future.
He said: "It's not up for sale as such, but if somebody was to make an offer which we deemed was what is was worth then everything in the world is up for sale."