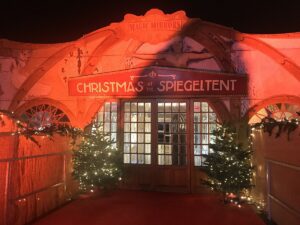 A unique new venue has arrived at the Baltic Triangle in time for Christmas, with food, performances, live music and a décor that promises to bring a touch of magic to festive soirées.
The Spiegletent – Belgian for 'mirror tent' – has landed in Liverpool for the first time. Here for only three weeks, the circus-style structure will play host to a plethora of events across this time.
Spiegeltents are hand-hewn pavilions known for their wild and decadent ambiance, typically used for travelling dance halls, bars and bohemian entertainment salons.
Beginning its journey in Bristol 2012, the Christmas Spiegeltent has enjoyed hosting an eclectic range of parties and world-renowned performers.
Russell Gannon, marketing and communications director of the Baltic Triangle, told JMU Journalism: "The Spiegeltent is another addition to the successful night time economy that we already have in the Baltic Triangle.
"What's appealing to the organisers is that the area is one of the few places in Liverpool it could be situated.
YouTube: Emily Roberts
"The area has a reputation for bringing slightly leftfield or experimental concepts to the city."
Across the following three weeks, there are a range of events such as circus skills workshops, Sunday roasts and an expanded cinema display of well-loved classic 'Singin' in the Rain'.
The tent will use projection mapping in order to simulate the rainfall during the film in an immersive experience.
Patricia Kelly, spouse of the movie's star performer, Gene Kelly, will be attending to introduce the showing and share anecdotes of her late husband.
When speaking about expansion proposals, Mr Gannon told JMU Journalism: "The tent in Liverpool is actually the smaller venue with a capacity of 400. The plan would be to bring the 1,000-capacity tent to the city with bigger acts and events."