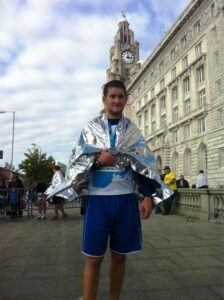 Running a marathon is an impressive feat of endurance for anyone, but 18-year-old Adam Woods managed to complete the course in Liverpool just two days after his father suddenly died.
Apprentice fitness instructor Adam was determined to stick to his pledge to raise money for the Claire House Children's Hospice despite the tragic loss of his father, Kenny, who passed away following a heart attack 48 hours before the Liverpool Marathon on Sunday.
Although grief-stricken at the loss of his 59-year-old dad before the race, Adam says he was inspired by him to run the 26.2-mile distance, telling JMU Journalism: "My father always wanted me to do this. Everybody I was surrounded by said 'do it for your dad'. I nearly pulled out, but I didn't because my dad wanted me to do it."
Adam said of his taxi driver father: "He was called Kenneth… we called him Kenny. He was in a care home for four years as he suffered from dementia.
"He was brilliant. He used to come to every one of my football matches and cheer me on. He was fantastic."
Adam said memories of his father spurred him on as the grueling endurance test kicked in, but the physical pain was immense.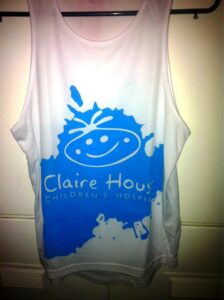 He told JMU Journalism: "I felt physically unable to run at Sefton Park, my legs were so tight. I was being sick, I just felt empty.
"I'm a determined person and like to finish things, so I finished because I didn't want to let anybody down."
He crossed the line at the Pier Head in a time of 05:19 and admitted: "It was such a relief. I knew I could just sit down, my legs were so weak, it was like a stabbing pain every stride I took towards the end. I had friends who cheered for me.
"I felt amazing and so proud of myself, I don't know why I felt really emotional. It's been hard, it's just been non-stop."
After finishing his first marathon, Adam wants to carry on fundraising for charity but he said: "It's difficult to find sponsorship money as everybody is finding it hard nowadays.
"I'm supporting Claire House Children's Hospice because children are too young and don't deserve to suffer. I want to make them happy."