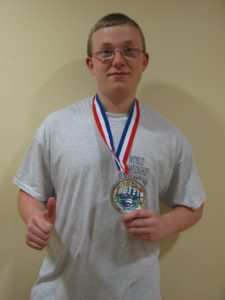 A 16-year-old junior strongman from Liverpool has won a silver medal in the World Powerlifting Championships which took place in the USA last month.
Alex Hughes decided to take up the strenuous sport when he watched old recordings of his dad and granddad competing and once he tried, he found he too had a talent for it.
At the age of 13, his father Simon started coaching him and they began entering competitions. Last year he won gold in the 14-15 year old category of the world championships and had high hopes he would secure another medal this year. He has entered seven major powerlifting events so far and won gold in six of them.
In October this year, Alex and his father travelled to Boston to compete against teenage entrants from over 12 different countries and he left with a silver medal.
The Hugh Baird College student is studying on the NVQ level 2 diploma in exercise and fitness, was given a £300 cheque from his college to support his hobby and help finance the trip.
Hugh Baird College Principal, Yana Williams, said: "We are delighted to hear of Alex's success at the World Championships and extremely proud to have Alex as a student here. From all the staff and students at Hugh Baird College we wish Alex the best of luck for future competitions."
Alex is keen to promote the sport, which is popular with both men and women in over 78 countries. Powerlifting is similar to Olympic weightlifting, it has been a Paralympic sport since 1984 and is a world games sport under the International Powerlifting Federation.
After winning the silver medal, Alex said: "I am so happy I won the silver medal, I have been training hard and I was really pleased with my performance at the competition. I would like to thank my family, friends and the college for their support and in particular my dad who has been coaching me."