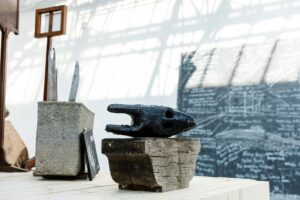 Revisiting the turbulent time of political and social crisis in the United States is the focus of work by one of America's most influential artists, and his creation is now here in Liverpool.
A historic exhibition highlighted through sculpture, film and dance, the installation presents a response to the interweaving issues of race, territory and inequality during the 19th Century.
Tate Liverpool is the first UK gallery to exhibit the work of Theaster Gates, a socially-engaged artist from Chicago whose passion stems from revitalising communities through art.
Dominic Beaumont, a staff member at the Tate, told JMU Journalism: "Theaster Gates is one of the most recognised American artists living today so we're very proud to have his first solo show in the UK at Tate Liverpool.
"When you visit the exhibition you'll get to know some incredible history which is still very important today."
Gates began by studying urban planning, which still to this day is reflected through his work, teaching how art can transform places and improve the lives of those who live there.
YouTube: White Cube
His first solo museum exhibition in the UK took inspiration from the story of a small island off the coast of Maine, USA, known as Malaga.
From the 1860s, the island was home to a small mixed-race community living in harmony during a time of racial segregation.
In 1912, the government forcibly removed all inhabitants to create an island fit for tourism, leaving the community with no housing, jobs or support. The island remains uninhabited to this day.
The exhibition, entitled Amalgam, tells the harrowing tale of the Malaga disaster. Although there is only a single wall of text, the story unfolds through the recreation of what was once a peaceful community.
Three large-scale works comprise the exhibition, with a film, 'Dance of the Malaga', featuring his own gospel band The Black Monks expressing the oppression of interracial relationships.
The exhibition is on at Tate Liverpool until May 3rd 2020.
Twitter: Lydia Baggs
https://twitter.com/baggs_lydia/status/1227286810025496576