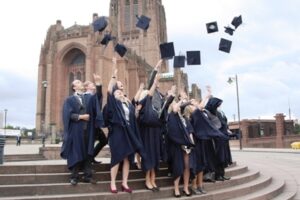 Fresh negotiations have been announced between the University and College Union (UCU) and their employers, in a bid to avert a marking boycott by lecturers.
It emerged last week that there is a possibility that students may not be able to graduate this summer due to the threat of further industrial action by lecturers, whereby from April 28th there will be no marking undertaken if the ongoing pay row between the UCU and universities is not resolved before then.
UCU members have been striking intermittently since October last year but universities have refused to take any action and increase the pay of their staff. UCU says they have resorted to the marking boycott, an "ultimate sanction", due to their employers' failure to act.
A joint statement from the union and employers said: "UCEA [Universities and College Employers Association] and UCU have agreed to investigate with the other parties to New JNCHES [joint national committee for higher education staff] the prospect of arranging exploratory talks, involving all New JNCHES unions, prior to the first scheduled negotiating meeting of the 2014-15 pay negotiations.
"The purpose of the exploratory talks would be to seek an early positive dialogue on the key issues in the lead-up to the 2014-15 pay round."
Last year, the UCU – along with the unions Unison and Unite – rejected the 1% pay rise offered to staff by their employers, which unions have said actually equates to a 13% pay cut in real terms. In contrast, vice-chancellors have received wage increases averaging 5.1% last year, with an average salary of £235,000.
A statement from the UCU said: "The recent stream of headlines about the pay of vice-chancellors and principals in UK universities should leave no one in any doubt about who the greedy ones in higher education really are."
Liverpool John Moores University UCU representative Chris McMahon said he believes the strikes were a success, adding: "The marking boycott was always planned as the next stage. I think it will be effective as universities cannot be in a position where final year students cannot graduate.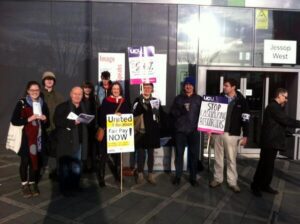 "UCU also wants to discuss wider issues than pay with UCEA; gender inequality suffered by staff, the student experience, staff workloads, the justification for thousands of staff continuing to earn below the living wage of £7.65 per hour."
A spokesperson for UCEA said: "UCU is well aware that UCEA and its 150 participating employers have made it clear that there is no scope for further pay increases beyond those already paid last year.
"HE [higher education] institutions will certainly be disappointed that the UCU is still threatening a marking boycott, as this is action that is once again aimed directly at students' education."
The UCU, which has not enforced a marking boycott since 2006 when the issue was resolved prior to graduation, is encouraging students who are worried about their marks and graduating to put pressure on their university's vice-chancellor or principal to find a resolution.