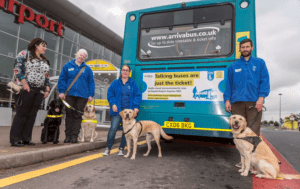 The blind and visually impaired can travel at ease with the launch of the first 'talking bus' in Merseyside.
Arriva has introduced the system on the 500 service to Liverpool's John Lennon Airport. As the bus pulls into a stop an announcement is made similar to those on train services stating the buses' location.
The nationwide bus company has this system already in place in both Manchester and Wales, but this is the first in Merseyside.
A spokesman for Arriva North West told JMU Journalism: "The ultimate aim is to make our services more accessible to the blind and visually impaired.
"We are looking to install the audio announcements on all of our buses and have another one being launched in a week on the X1 service between Runcorn and Liverpool."
Arriva has been working in partnership with The Guide Dogs for the Blind Association [GDBA], which has been campaigning to show the importance of making public transport accessible to all. After the government decided not to legislate the implementation of audio announcements, the GDBA is trying to make it mandatory on all forms of public transport.
Lynette Proctor, Engagement Officer at the Association, told JMU Journalism: "Obviously people with visual impairments can't drive and public transport is their main access to getting about. It's going to make a massive difference, and not just to people with visual impairments but to those new to the area.
"We've done lots of work with Arriva, including generating awareness with their drivers, and they've understood the importance of our campaign."
The GDBA hopes other major bus companies will soon implement audio announcements on their services.