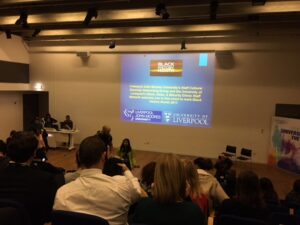 A celebration of the city's rich and diverse culture has come around again with October marking Black History Month in Liverpool.
A range of different events, activities, discussions and plays will be staged, with Liverpool John Moores University playing host to one of them this week.
In a collaboration with the University of Liverpool, LJMU presented Dr Nicola Rollock, a reader in equity and education, giving a fascinating talk on some of the issues occurring in modern society.
Dr Rollock gave a lecture at LJMU's Art and Design Academy on Wednesday, provoking debate on race and the challenges of structural change.
In the session, entitled, 'White Privilege: What is it and does it really exists in UK higher education?', Dr Rollock highlighted the advantages enjoyed by white people in common everyday situations.
She also explained that the term 'white privilege' is used to point out differences in experiences between those racialised as white and people of colour.
Dr Rollock believes that the tag alone is not enough to understand continued racial inequalities in higher education and society more broadly.
The Reader in Equity & Education at Goldsmiths, University of London,  told JMU Journalism: "Universities seeking to engage seriously with race could ensure their senior leaders – not just those with responsibility for equality and diversity – attend the Equality Challenge Unit's Achieving Race Equality in Higher Education two-day training programme which I helped design and deliver with ECU colleagues.
"This would serve as an important precursor to plans to apply for the Race Equality Charter, for which I'm a patron. They should also consider including actions on race in criteria for promotion and pay rises."
The event, held at the Johnson Foundation auditorium, was a combined effort with the city's two main universities and the Black Minority Ethnic Networking Group.
Black History Month continues, with a list of local events found here.
YouTube: BERA UK