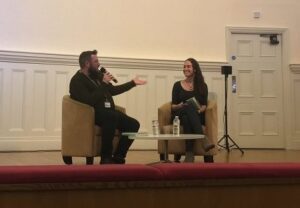 A woman who was at the heart of controversy over her role in a notorious religious group gave an interesting talk about her experiences to an audience in Liverpool.
Former Westboro Baptist Church member, Megan Phelps-Roper, is known for famously quitting the Kansas-based organisation at the age of 26,m resulting in her leaving her family behind.
The Westboro Baptist Church first came to prominence in the UK when Louis Theroux made a documentary on the group in 2007 entitled 'The Most Hated Family in America'.
The organisation is known for its controversial opinions on homosexuality and other religions. They also face severe criticism for their pickets of US soldiers' funerals, which the group 'celebrate' due to their beliefs.
Promoting her new book ,'Unfollow', and giving a talk about her previous life in the controversial church, Mrs Roper spoke at Liverpool Central Library about her early life and how from the age of five she was heavily involved in the group's activities.
YouTube: Matthew Nyland
In the week that marked seven years since she left, Mrs Roper read two short chapters from her book and opened up about her time during and after the church.
She said: "I currently follow the Westboro Baptist Church through a fake account on Twitter as I'm blocked through my actual account. I do this as it's the only way I get to see my siblings grow up."
Speaking on the group's ideology, she stated how she was a strong believer in it for many years of her life and declared how Twitter changed her for the better as it opened her eyes to different opinions.
Members of the Westboro Baptist Church are banned from the UK due to them being classed as a hate group. When asked how important being able to her story in the UK was, Mrs Roper told JMU Journalism: "Well we thought we weren't allowed to come here at all. My mother is actually specifically banned from this country, so this has been a really incredible experience coming here and meeting people."
She added: "I feel like people in this country, because of Louis' documentary, have a much clearer understanding of Westboro than many people in the US do, so the questions and the ideas everybody wants to discuss here in a lot of ways more advanced than many of the of the conversations that I've had in the US."