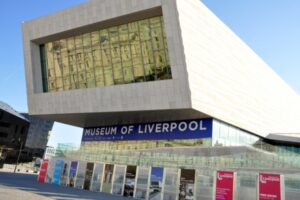 Museum of Liverpool visitors can reflect on the lives and experiences of the city's lesbian, gay, bisexual and trans (LGBT+) community in a new exhibition.
Opening on October 13, the Tales From the City exhibition will explore the changes the LGBT community has faced in Liverpool, from the decriminalisation laws of 1967 up to 2017.
In partnership with Homotopia Arts, a Liverpool-based arts & social justice organisation, the exhibit will reveal cases of discrimination as well as self-determination.
Individual stories will be told from the LGBT community over the past five decades through a variety of different objects, costume, art, photography and interviews. National events such as civil partnerships, marriage and equal adoption rights, will be explored.
A Homotopia Arts representative said: "Attending this event will be really beneficial to everyone. It is a good way to reflect on how far we have come as well as realising how far we still have left to go. Liverpool has a great LGBT community and this exhibition will highlight that."
YouTube: National Museums Liverpool
After placing 51st in the Nestpick 'Best LGBT Cities 2017', Homotopia Arts wants to improve Liverpool's rating, hopefully being assisted by staging the Tales from the City exhibition.
Liverpool John Moores University LGBT Society President, Lucy Winter, said: "Tales From the city is a great way to build networks with Homotopia Arts and also get to meet the people that are telling their stories in the exhibition. It should be very inspiring and a good step to make for the LGBT communities in Liverpool."
"As part of the student LGBT Society we aim to provide a safe environment for gender and/or sexual minorities to meet new friends, explore new spaces and build networks with other communities within our great city.
"Placing 51st in the Nestpick rankings isn't the end of the world, but we can definitely do better."
Tales From The City will be at the Museum of Liverpool until late 2018.