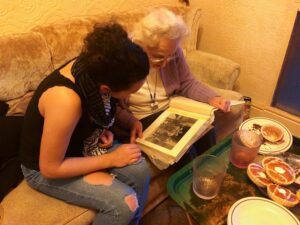 An organisation which aims to tackle and reduce loneliness and isolation amongst older people and young professionals is celebrating its first anniversary with an important fundraiser.
Liverpool Care, which has now been operating for just over a year in Liverpool, has tried to improve connections between different ages groups and bring them together.
The organisation offers three programmes to the public: social clubs, community fundraising and love your neighbour, all of which are free for everyone.
Now Liverpool Care will be holding a fundraiser on Sunday March 1st for a clothes swap at Tusk Baltic from 3pm.
'The Great Scouse Clothes Swap' will also consist of chats, cocktails and quizzes along with opportunities to find garments.
All the money raised from this event will allow Liverpool Cares to continue to host social clubs in the city.
YouTube: Rosie Patel
These take place all week and are a chance for Liverpudlians to share time, laughter and experiences, including anything from nature walks, pub quizzes, craft clubs to technology workshops and visits to local businesses.
Love your Neighbour is a friendship-matching programme to bring older and younger people together. This allows them to spend more one-on-one time weekly.
Rachael Forde, 29, Development Coordinator at Liverpool Care told JMU Journalism: "Loneliness can be as bad as smoking 15 cigarettes a day. This organisation helps create a community and friendship as well helping bridge society and the divide.
"Loneliness affects older people the most. Their social circle becomes much smaller. Some go months without communicating with people."
Volunteers go to churches and GP surgeries to speak to the older neighbours to introduce them to social clubs.
Rachael added: "We know people are constantly moving in. It's a beautiful city, we want to make people feel welcome."