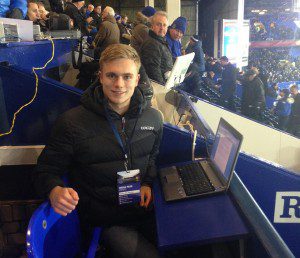 Having travelled to Switzerland for the away leg the week before as a fan, the second leg of Everton's Europa League clash with BSC Young Boys was an altogether different experience for me.
Rather than cheering on the Blues as I usually would, this time I was sat with my laptop alongside all the journalists in the press seats at Goodison Park.
A week ago I was in the Stade de Suisse in Bern, jumping, singing, dancing, shouting and hugging strangers as Everton ran out 4-1 winners in a thrilling performance. It was my first European away game and was certainly a great experience for me.
The second leg turned out to be another life highlight, but for a different reason. Instead of watching just as a fan, I was there to report on the game as well. When I first decided I wanted to study Journalism, reporting on Everton games and watching and writing about the team I've supported all my life was a distant dream. I managed to live that dream as the Toffees sailed into the round of 16 of the Europa League with a 7-2 aggregate win.
It was clear from the start that this was not going to be an ordinary trip to Goodison for me. Being a season ticket holder in the Lower Gwladys Street, I am used to enjoying a pre-game pie and a pint on match days. However, after picking up my press pass, I headed to the media area where I ended up eating piri piri chicken sat next to ITV commentator Clive Tyldesley – surreal!
Soon after, fellow student Rebecca Cookson and I took our free programmes and team sheets and headed to our seats with the other journalists for the start of the game.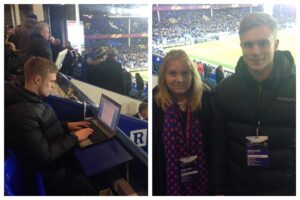 Everton didn't have the greatest of starts and Young Boys took the lead in the 13th minute and hit the bar soon after. The home crowd became very nervy and this made it hard for me to concentrate on my match report for the next few minutes as I slipped into supporter mode. The nerves didn't last long though as Steven Naismith won a penalty which Romelu Lukaku slotted into the bottom corner before adding a fine second soon after.
With the score at 2-1 I was able to relax into my match report and enjoy the occasion. The evening was about to get better still… Liverpool were playing Besiktas, also in the Europa League, and we knew that the tie had gone to penalties. However, the wifi was down at that time so we didn't know who'd won.
This was until a huge cheer went round the ground and news quickly reached everyone that Everton were now the only British side left in the competition.
Kevin Miralas added a third goal soon after as Everton eased into the next round of the competition. There was still one final highlight to come as I came within touching distance of Roberto Martinez as I sat in on the manager's post-match press conference to top off a truly memorable cup tie for me.
One team, two amazing nights, countless memories and now we're only six games away from the final Warsaw.