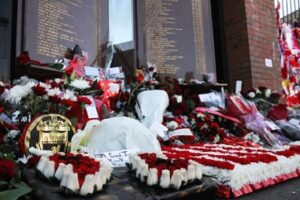 The number of 'suspects' in the ongoing Hillsborough investigations has risen by nine, taking the total to 22.
'Operation Resolve' has started interviews with 13 people under criminal caution and four were joint interviews with watchdog organisation, the Independent Police Complaints Commission (IPCC).
The IPCC earlier said retired and serving officers are among those identified as 'suspects'.
After yesterday's pre-inquest hearing, the IPCC said that the possible offences being reviewed include misconduct in public office, perverting the course of justice and manslaughter.
The enquiries surround the circumstances of the FA Cup semi-final between Liverpool and Nottingham Forest at Hillsborough, Sheffield on April 15th 1989 and its aftermath.
Fresh inquests into the deaths of 96 Liverpool fans will open in Warrington on Monday March 31st and they are expected to last around nine months, with a break at the end of April to consider pathology reports.
Reporting restrictions were placed on the proceedings before the appointment of a jury.
Verdicts of accidental death at the original Hillsborough inquests were quashed in December 2012 following the publication of the Hillsborough Independent Panel Report in September of the same year.