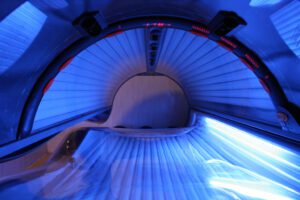 Liverpool Fashion Week has banned models from using sunbeds in an attempt to highlight the dangers of tanning.
The decision comes following a campaign launched by Liverpool City Council which aims to highlight the issue of unsafe sunbed use and licence all premises in the city with sunbeds.
The models will be asked to sign a pledge not to use sunbeds during or after the show.
Director of Liverpool Fashion Week, Amanda Moss, hopes that this move will address the dangers and long term effects of sunbed use on young girls and show that "natural beauty" is the way forward.
The Sunbed Association dubbed the ban a "publicity stunt", tweeting: "Ridiculous publicity stunt story by Liverpool Fashion Week today banning use of models who have used a sunbed…."
In response to this, Moss said that Gary Lipman, the Chairman of the Sunbed Association, appears to be panicking.
She told JMU Journalism: "He knows the industry is dying, unfortunately just like some of the people that use them. How can he justify the use of a product that can cause cancer and premature ageing?"
The ban was implemented earlier this year, during the casting process for Liverpool Fashion Week's models.
Mr Lipman, speaking on behalf of the Sunbed Association, said: "The decision by the organisers of Liverpool Fashion Week to deny models the opportunity to work in these difficult economic times because of their freedom of choice to use sunbeds, is really quite outrageous as a publicity stunt, which London Fashion Week also tried a couple of years ago.
"In my opinion, for a publicity stunt it would actually have been more appropriate to ban models from wearing high heels, which poses more of a health hazard than responsible sunbed use."
Liverpool Fashion Week runs from the 14th to the 19th of October.