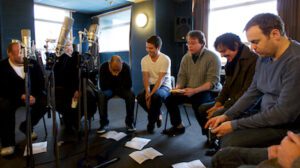 The popular Anfield Wrap podcast team have already in their first season picked up a national award for their contributions to Reds fans around the world – and now they are aiming for more.
Based on the fairly simple concept of aiming to give the best independent views and information around Liverpool FC from the world of media, The Anfield Wrap members have quickly found their way towards the top of the sports podcast charts in the UK.
"Considering that we're only covering Liverpool, competing against big names like the BBC, Sky and the Guardian, we think it's quite an achievement," Jim Boardman, one of the founders, said. "People like what they hear and they feel they can take some kind of part."
The Anfield Wrap team has recorded an hour-long programme every Monday this season in the Parr Street Studios in the city centre. Two months ago, the Liverpool-based show won the People's Choice trophy at the NOPA football blogging and podcasting awards.
Boardman has, alongside the founder of The Anfield Wrap, Andy Heaton, contributed from the first minute to the podcast and the website. In addition to the usual members, several top journalists and well-known Liverpool personalities have been on the show.
He said: "We've had quite a good collection of people coming in to talk with us on the podcasts. Rafa Benitez and Dietmar Hamann have contributed, as well as journalists such as Tony Barrett, Rory Smith and Tony Evans, plus people involved with the Hillsborough campaign, such as Steve Rotheram MP and Sheila Coleman."
While Boardman and Heaton, joined by Kristian Walsh, Rob Gutmann and Mike Girling are regulars in the TAW team, Neil Atkinson presents the show. The Liverpool men are already looking at improving the programme.
"We're all learning from each other and we have got a few things in the pipeline for the next season. I can't tell exactly what we're thinking, but I think people will enjoy what we've got coming up.
"We've got big plans for 2012."