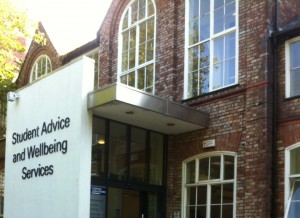 University can be a wonderful experience – the best years of your life, as some might say.
But not everyone enjoys being at uni as much as others. Students can often find themselves struggling, whether it be with homesickness, mental illness or money worries.
If you're one of those people, know that you're not alone.
LJMU's Student Advice and Wellbeing Services offer help to anyone who is finding university daunting, and department head, Yvonne Turnbull, encourages anyone who needs assistance to seek their support.
She told JMU Journalism: "We look at every individual case. Everybody's circumstances are slightly different and our advisors work with that particular student to make sure their services are taken into account."
The department, situated in the Aquinas Building opposite the Aldham Robarts Library, caters for all kinds of issues, such as offering counselling, study support for students with disabilities or medical conditions, or debt and benefit guidance.
"We offer practical advice as well as emotional," Yvonne said. "Making the decision to come to university in the current fee regime at £9,000 a year is a huge decision for somebody to take. I would never advocate people staying if they are so unhappy that it's going to affect their wellbeing. However, in a lot of cases there's so much that we can do to resolve those issues.
"Pop in," she urged. "You don't have to make an appointment. You can call in any day, Monday to Friday, nine to five. If someone desperately needs to see somebody we'll try our best to see you as soon as possible.
"There's so much support here, it really is the best place to come if you're having any problems whatsoever."
For more information about LJMU's Advice and Wellbeing Services, click here. >>
https://www.youtube.com/watch?v=P4c1AOIMjd4