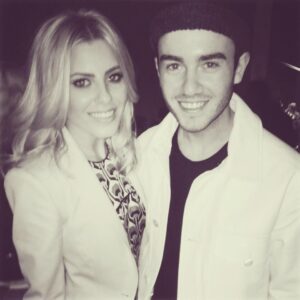 Up-and-coming stylist, Daniel Brown played a major role at London Fashion Week 2013.
The 20-year-old, from Runcorn, was invited to appear and work alongside Ponystep magazine, where he observed shows from the front row and processed reports on both recognised and up-and-coming designers.
Daniel currently studies fashion styling and communication at Middlesex University, North London, and has attended London Fashion Week for three years running, working backstage either assisting or directly styling several shows, working directly with PR companies before hand to pull clothes and carry out castings and fittings with agency models.
He told JMU Journalism: "I always love to attend as many shows as I can fit in to my schedule as it's amazing to enjoy not only the launch of the designer's new collection, but to thoroughly appreciate the concept and thought process into each production.
"Each show brings a story and we are able to follow the designer's choice of venue, music, production and models and of course the deliverance of fashion".
Daniel has plenty of fashion experience having worked at the high-status fashion house Alexander McQueen as an intern at the tender age of 17.
He said: "I was lucky enough to land myself an interview after continuously applying for a very prestigious and respected internship. Having had my interview, the head of print design at Alexander McQueen was very pleased with my ambition and presentation of my portfolio and offered me the internship that same day. The whole experience was amazing. I was 17 years old at the time, therefore to have landed myself such an amazing opportunity in the industry at such a young age was new and exciting to me."
Daniel, studied Graphic Design, Fine Art, Media Studies and Business Studies at Warrington's Priestly College has also recently founded his own stylist profile "DANYUL", which is becoming increasingly popular and well-established within the fashion industry.
He said: "Initially, DANYUL was a name, a profile that I had intended to create in order to pursue my profile as a stylist. Everything seemed to fall into place whether I had intended for it to or not. The name very quickly began to become a recognised and some began to question what DANYUL even was. I began to use the skills I had learnt in print design at Alexander McQueen and create T-Shirts – initially with intentions to simply promote the name and the logo DANYUL.
"Having launched my website www.DANYULBROWN.co.uk not long after, I was quickly booked and requested for lots of styling jobs and interviews with magazines. Still today, DANYUL is recognised as a brand by some, but by most DANYUL is known for his skills in styling and print design. Whatever happens, happens. Who knows what DANYUL will bring? Watch this space!"