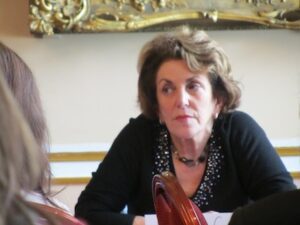 Students from across Liverpool met a panel of experts, including former government minister and 'Strictly Come Dancing Star' Edwina Currie, to talk about their concerns at a European seminar.
The 'EurVoice' event, held by the European Youth Parliament UK (EYPUK) in the Liverpool Town Hall this week, drew an impressive group of pupils, ranging from years 7-11 from six different schools in the city.
Former MP Mrs Currie, who was born in Liverpool, told JMU Journalism: "I thought it was brilliant. It's great to meet young people. They're still in school and they're very good. They fought their corner."
Andrea Penketh, Deputy Head at St. Margaret's school in Aigburth, explained: "This is the first time we've had our students involved in 'EurVoice'. The kids really like to participate in these sorts of events."
For the first half of the programme, students were divided into groups headed by volunteers from across the country and they discussed five different topics: how the youth of today can be engaged; if the proposed rises in public transport fairs are unfair; the importance of healthy eating; if media has a negative effect on young children; and how important Europe is in shaping the lives of young people.
The first 'EurVoice' in Liverpool was held at the Liner Hotel in 2007. Mike Leyland, who is on the EYPUK Board of Trustees, and the event organiser, JMU Journalism: "This is aimed at state schools, basically making it more accessible. European Youth Parliament sounds a bit grandiose. This is a bit more open and less stuffy."
This is one of six similar events that will be held across the country in places like the Houses of Parliament, the Welsh Assembly and the Scottish Parliament among others.
"The main aim of these events is to improve conversational skills and to discuss issues on a local, national and international level," Mr Leyland added.
The second half of the programme was a question and answer session where the chosen panel members answered students' queries on the topics they discussed.
The four guests were Edwina Currie, Malcolm Kennedy, the Cabinet Member for Regeneration and Transport at Liverpool City Council, Liverpool's youngest ever councillor, 18-year-old Jake Morrison, and Liverpool Echo education reporter Ben Turner.
Two students took a few moments between the session to make a small presentation on the negative impact of media on the youth, finishing it on a lighter note with a clip of Edwina on Strictly Come Dancing.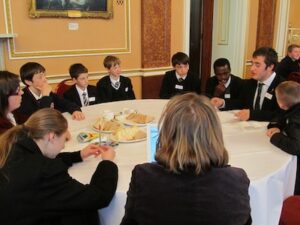 When one student asked if they thought it was unfair that after events like the August riots, the media portrayed all young people in a bad light, Mrs Currie said: "I think you're reading it all wrong. It's not about all young people. Don't absorb other people's guilt. You're not guilty."
On the subject of diet, one student suggested that a tax be imposed to discourage people from unhealthier food options as healthy food was thought to be expensive.
To this, Mrs Currie answered: "I was a Minister in the Department of Health and we were concerned with the rapid increase of obesity in children, but it's not just about the food. There are other things you can do, like exercising and not smoking and not drinking too much. How many of you walk to school? You can eat whatever you want as long as you exercise.
"It's a total waste of public money if you just use buses and complain about food."
Mr Kennedy agreed, saying: "Not exercising is a part of the problem. Take an interest in learning something new. Often, the healthiest food we eat is what we cook, so learn to cook for yourself."