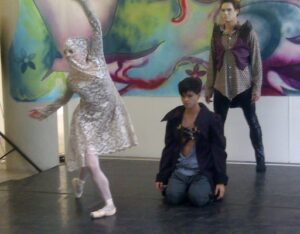 Liverpool John Moores University students have taken part in a collaborative 'pop-up ballet' with one of the world's great ballet companies.
The performance was named 'The Tale of William McKenzie' and starred four dancers from the English National Ballet, featuring three performances of the tale at LJMU's Art and Design Academy on Duckenfield Street.
A 'pop-up' ballet is a collaborative series of site-specific performances and exhibitions taking over spaces for one day or evening. Fashion students were responsible for the dancers' outfits and fine art students were chosen to design and create the set.
Jasmin Williams, a third year fashion design student at JMU, said: "It was really exciting. I'm a women's wear designer not a costume designer so it was a bit if a challenge as there's a lot of technical issues that you come across. I really enjoyed it and it was a brilliant opportunity. The dancers were amazing."
LJMU students also composed the music for the production, along with the storyline which was based on the local myth of gambler William McKenzie who has a tomb in a graveyard on Rodney Street in Liverpool City Centre.
George Williamson, Associate Artist at ENB and choreographer of the performance, said: "We wanted to produce this show in collaboration with LJMU students because we know the University has an excellent reputation for the arts.
"We also want to encourage as many young people as possible to channel their artistic voices through ballet. This is giving them a unique opportunity to use their abilities in a niche medium."
The English National Ballet performed 'Sleeping Beauty' at the Liverpool Empire Theatre on Saturday.
.